His Bands
Jeremy Lyons often works as a solo artist, but he has spent much of his professional life working with bands. From his days early days playing on the street (with the Big Mess Blues Band, pictured here), to pubs, clubs and festival stages, Jeremy has enjoyed playing in an array of organizations. The current list of active projects keeps him on his toes musically:
The Busted Jug Band
The Busted Jug Band harkens back to the African-American street bands of the early 20th Century, in Southern cities such as Memphis, St. Louis, and New Orleans. These resourceful musical organizations featured homemade and dime store instruments such as the kazoo, washboard and "gut-bucket" (or washtub) bass; alongside harmonica, mandolin, banjo-ukulele, squeeze box and a trunk full of musical oddities and noise makers. These acts were very popular in the 1930s, influenced various styles to come after, and inspired mainstream novelty acts of the 1940s and 50s such as the Hoosier Hotshots and, most notably, Spike Jones' City Slickers.
The Busted Jug Band's music is a festive romp through time featuring strong group vocals, swinging rhythms and sharp instrumental work, often on homemade instruments. The group plays music of the classic Jug Bands of Memphis, String Bands of Mississippi, and small Swing Bands and vocal groups of the Urban North. These include early Blues and Rhythm & Blues, novelty tunes, standards, New Orleans Jazz and Hillbilly music. The Busted Jug Band pushes the "Jug idiom" beyond it's historical confines. Homemade instruments are used and also modified with modern techniques for maximum impact. Vaudevillian sight gags, jokes and colorful stage attire round out the show, and fun reigns supreme.
The Busted Jug creates party music with a low electric bill. Check out their facebook page, and WEBSITE.
Members of the Busted Jug Band use stage names exclusively:
Dr. Kayola Ola – vocals, guitar, banjo-ukulele, accordion, kazoo
Early Bird– vocals, harmonica, guitar, mandolin, kazoo, jug
Smiling Hernando (Pee Wee) – vocals, banjo-ukulele, kazoo, guitar
Lefty Boom Boom – the "boom" bass (the Cadillac of Washtub basses)
Rude Boy – washboard, rhythm bones, percussion, vocals
Mean Black Spider
Jeremy's latest project is a gutbucket blues organization featuring Mark Earley on vocals and amplified harmonica, Jeremy Lyons on electric guitar, and a rotating cast of drummers. The band creates driving boogie rhythms and trance-blues grooves of the likes of Howlin' Wolf, R.L. Burnside, Lightnin' Slim and Slim Harpo.
Within weeks of arriving in Cambridge in 2005, Jeremy met the surviving members of the 90s band Morphine. Dana Colley (baritone sax), Jerome Deupree (drums) and Billy Conway (drums) empathized with Lyons' post-Katrina dilemma; Morphine's leader Mark Sandman (also of Treat Her Right) had died of a heart attack onstage in Italy in 1999, ending band's career. Dana head of Lyons' arrival in the area, and invited Lyons around Sandman's old Hi N Dry recording studio/clubhouse, and the two became fast friends. Lyons began hiring Conway and especially Deupree as drummers and they became close as well. Colley, Deupree and Lyons began playing as a trio when Jeremy was at a loss to find a bassist for a gig and asked Dana to fill in on the baritone (plugged in through an octave pedal and Fender amp). Together they discovered a new style of music, and when in 2009 Dana was called upon to produce a band to bring back to Palestrina, Italy to commemorate the 10th anniversary of Sandman's death, Lyons had his friend Robbie Phillips build him a Sandan-style two-string slide bass and began learning the Morphine repertoire. To rehearse for the date, the boys stumbled upon a weekly residency in Atwood's Tavern in Cambridge, which they hold down to this day, using the venue as a public rehearsal space. In addition to re-imagined versions of Lyons Blues and the Morphine tunes, Vapors of Morphine explores West African Blues, psychedelia, noise rock, and obscure covers by the likes of Jimi Hendrix and Brian Eno. Check out their website.
The Deltabilly Boys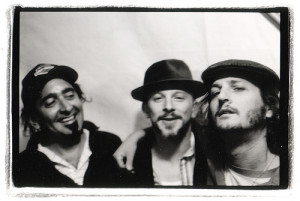 Jeremy Lyons & the Deltabilly Boys were most active in New Orleans and on the road from 1997-2005. For a short time after Katrina all three were living up North, though in different states, and were gigging somewhat regularly. While Jeremy and his family stayed, the other two returned home. The group, which used to play close to 200 shows a year now reunites for shows when Jeremy travels to New Orleans.
The Deltabilly Boys blended the rhythms of rockabilly and New Orleans R&B with Delta-infused slide, Piedmont-style fast fingerpicking, surf guitar, and Western instrumentals into a distinct style called Deltabilly.
Jeremy teamed with drummer Paul Santopadre and Greg Schatz on upright bass to found the Deltabilly Boys around 1997. Lyons met Louisiana drummer Paul Santopadre onstage at the 1994 New Orleans Jazz & Heritage Festival with Butch Trivette & the Roulettes. Paul and Jeremy immediately clicked; Santopadre's schooling in cajun and zydeco bands (Mamou, Steve Riley, etc) blended well with Lyons' speedy, syncopated finger-picking. Greg Schatz and Jeremy had known each other since the 6th grade when Schatz moved to New Orleans in 1995 to play accordion with Jeremy on the streets in the Big Mess Blues Band. He also subbed for Jeremy's upright bassist of the time (Steve Lewins of the Solid Senders and the Count Bishops), and took over the role in 1997. Together, Lyons, Santopadre and Schatz packed clubs and barrooms in New Orleans, across the States, and in Europe. They recorded several acclaimed albums, including Count Your Chickens Before They Hatch; Live at the Dragon's Den; Death of a Street Singer ("one of the best portrayals of the world of New Orleans musicians and street musicians ever recorded" — David Kunian); Live at Fribourg; and Jeremy Lyons and the Deltabilly Boys (eponymous); which was listed as a New Orleans CD of the decade by Tom Morgan of WWOZ. For a short while after Katrina forced Lyons' relocation to the Northeast, all three members were living in the Northeast; now Schatz and Santopadre are back in the New Orleans area, and the Deltabilly Boys play a handful of dates annually.
After moving to Boston, Jeremy tried to keep the groove going with his "up-North" band, The Jeremy Lyons Trio, sometimes known as Bright Moments, although this band is also now on hiatus. The anchor of the band was "Washtub" Robbie Phillips (Spider John Koerner), an old friend of Kenny Holladay, one of Lyons' mentors in his early days in Louisiana. Robbie alternately played two basses of his own design: the one-string upright "Wombat" bass (built from a conga drum) and his smaller electric two-string fretless bass diddley bow (literally made of scrap wood and car parts). A rotating cast of drums included Sean "Cave" Mannion (Po Boyz), Jeff Allison (Vapors of Morphine), Tom Arey (J Giles Band), Jerome Deupree (Morphine), and others. Following a series of small strokes, Robbie Phillips went into semi-retirement; Jeremy has since retired the Deltabilly-style trio in favor of newer projects.