Jeremy
American Roots and branches; from New York to New Orleans to New England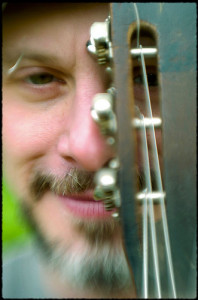 "You sure can sing dem notes on dat GIT-tar!"
~ Mac Rebennack (Dr. John)
Jeremy Lyons. Singer, multi-instrumentalist, bandleader. Slide and finger-style guitarist. Proponent of unusual music and musical instruments (traditional and otherwise), and general entertainer. He plays in – and plays with – American music traditions. Lyons was fascinated by the concept of home-grown music from an early age. Studies in ethnomusicology and American social history were tempered by a dozen years of making a living playing in the streets and clubs of New Orleans. That was his home from the early '90s, till circumstances in August, 2005 (the disastrous flooding associated with Hurricane Katrina) drove him North. Jeremy began the slow process of recreating himself, musically and otherwise. Fortunately he and his family found help in a welcoming community in Cambridge, Massachusetts.
Over the past ten+ years, Lyons has established himself as a quiet force on the Boston music scene. His talents as a player and songster gained him early attention when he first arrived. But what has perhaps been most impressive is the development of a number of very different, solid, stand-alone projects:
On many morning, Jeremy can be found playing banjo and ukulele for young children in pre-schools, libraries, toy stores and special events. (He has released two delightfully parent-friendly CDs for kids).
On many evenings, as 1/3 of Vapors of Morphine, Jeremy Lyons revives "low rock" and creates compelling experimental music with local Boston legends, Morphine's Dana Colley (baritone sax) and Jerome Deupree (drums). The trio has toured parts of the US, South America and Europe. Lyons' part (more-or-less) playing Mark Sandman's roll has been greeted warmly by fans.
The Busted Jug Band and Lyons' newest project Mean Black Spider each allow Jeremy to delve deeper into specific American musics of the late 19th and early-mid 20th Centuries. The former is a five piece group reminiscent of Jeremy's street days; the second is an edgy, groove-oriented electric blues trio. (Check out the Bands page for more info.)
Drawing inspiration from a childhood enriched by music, as well as his years as a blues-singing French Quarter street musician in the 1990s, Jeremy returned to his folk-ish roots with the CD and digital release Make It Better (8/1/14). Featuring previously un-recorded songs by Jeremy (and a few written by personal friends), a remastered Make It Better was released on 180 gram vinyl in the fall of 2015, and is only available HERE.
Slide and fingerstyle guitar are his specialities, but curiosity draws Jeremy to more unusual instruments, such as the six-string banjo (which he regularly plays for children), banjo-ukulele (for kids, and in the Busted Jug Band), electric bouzouki and two-string slide bass (with Vapors of Morphine). A homemade fretless four-stringed instrument called a diddley bow has been known to appear in Jeremy's hands for a song or two. Sometimes a shy person, onstage Jeremy can display a playful energy and a wry, irreverent wit. 
"His playing has a depth that's oozed up from the grime of the New Orleans streets." ~ Blues Revue
History
Jeremy Lyons grew up in Ithaca, NY. Enthralled by old records and itching to learn, he studied the history of folk styles in college; at age 19 Jeremy got a crash course in finger-style and slide from British folk guitarist Martin Simpson. He got himself a 1930s National guitar, and moved to New Orleans in 1992. He joined the Big Mess Blues Band, an all-acoustic, amoebic ensemble that played every day in Jackson Square or out on Royal Street. He honed his craft, learning from and working with elder musicians and peers – Augie Junior, "Washboard" Lissa, Kenny Holladay, Butch Trivette and Corey Harris, to name a few.
After five years of full-time busking, Jeremy retired from the street, released his debut CD Deltabilly Swing and picked up the electric guitar. Moving indoors, the new trio called Jeremy Lyons & the Deltabilly Boys' did well, first in New Orleans clubs and festivals (seven appearances at Jazz Fest), and also on stages across the US and Europe. The Deltabilly Boys rocked hard with caffeinated R&B, blues, hillbilly and Surf and Western instrumentals. They released five critically acclaimed CDs.
In 2005, flooded out by Katrina, Jeremy and his immediate family resettled to Cambridge, Massachusetts.
"His down-home yet elegant way with traditional material is a tonic." ~ Boston Herald
Jeremy's first real folk record Make It Better reflects the changes in the singer's life and career, and draws on elements of the three phases of his musical life: folk-singing youth, early years in New Orleans, and his current life in New England, where he regularly performs acoustic music for children and adults. Two of the folkier numbers were written by folks he was singing with in high school. (One was a buddy; the other the principal.) The tunes were all recorded in the Boston area with some of the area's finest talent, including Dinty Child (Session Americana), Jerome Deupree (Morphine), Zack Hickman (Josh Ritter), Robbie Phillips (Spider John Koerner), William "Decky" Lucey (Rubyhorse) and Eilen Jewell. The record was mixed and mastered in New Orleans by Mark Bingham and John Fischbach. The CD came out in August of 2014 and is being played on the air as far as Australia. The record came out on vinyl in the Autumn of 2015.
Plans are in the works for recording a third kids' record.