Make It Better
NEW CD OUT NOW! ORDER YOURS TODAY!
…OR DOWNLOAD IT HERE: http://cdbaby.com/cd/jeremylyons4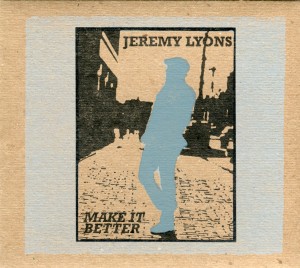 With lyrically articulate songwriting, Jeremy Lyons' new release Make It Better is a delightful array of acoustic roots selections that listeners will notice take residence in the ear in the most surprising, yet pleasant way. Lyons has crafted a release with no fluff on this taut set of tunes, in a bi-coastal production that is rooted both in the Deep South and the Northeast, with clear influences of Delta Blues, New Orleans street music and the 60s folk revival. The mood is at once wistful yet hopeful; the music evokes the crisp clarity of a day outdoors, whether it be in the Adirondacks or the Louisiana swamp land.
Check this out for more about the new album:

Within Make It Better, acoustic guitar is the main ingredient, each song dressed with the appropriate added instrumentation. Some songs, like the gospel-tinged, Ry Cooder-esque "I Don't Mind the Rain," feature accordion, pump organ, slide guitar, drums and bowed bass fiddle; others are almost stark in comparison, with only finger-style guitar and acoustic bass. Some compositions are lyrically sparse, some more complex. The most upbeat track is the rollicking, banjo-driven "Not Drag Me Down," saying all that needs to be said in under two minutes! Although the majority of the songs are set at a rolling mid-tempo pace, the music never stops moving.
After listening to Make It Better, you might find yourself humming the yearning melody of the folky "Do You Ever" or the mellow, Mississippi John Hurt-meets-Richard Thompson tune of "When I'm Feeling Better." Yet it's not all relaxed and sunny. There's an invitingly menacing quality to songs like the bluesy "Know" and the ballad "Clouds on Her Face." And one of the cover tunes was written by the master of haunting, spooky blues, Skip James. Even an on-the-surface optimistic "Make It Better" (with guest vocalist Eilen Jewell) has an eerie, film-noire vibe, with the requisite yet appealing swells of electric guitar and field organ.
Jeremy also includes a couple upbeat tunes that verge on the whimsical: the anti-materialistic "Lazy Susan" and the advisory "Long Lunch" which has a double entendre so elusive (at first), the song could almost fit right in on one of Lyons' records for kids. The album's final track "Three Score and Ten" is a dead ringer for a Greenwich Village folk anthem, even though it was written by a friend of Lyons' back in their high school days.
The album was a long time coming. Recordings were spread out over six years and five studios in and around Boston. The production found a home at William "Decky" Lucey's Milk Row Cemetery studio a few doors from Lyons' Cambridge apartment; Lucey (formerly of the Irish rock band Rubyhorse) signed on as co-producer, adding an indy-pop ear (and some bass guitar and keys). Dinty Child (Session Americana) added the pump organ, accordion, mandolin, fiddle and mando-cello; Zack Hickman (Josh Ritter) on bass fiddle, Robbie Phillips (Spider John Koerner) played a homemade one-string bass and Jerome Deupree (Morphine) added drums on a few tunes. The album was mixed and mastered by Mark Bingham and John Fischbach at Piety Street Recording in New Orleans' Bywater. Recycled-cardboard CD cases were letter-pressed in Somerville and enclosed with a lyric booklet; the result is an appealing craft product that hints at what may be available on vinyl by year's end.
Jeremy Lyons' ninth release, Make It Better is a culmination of his years in music. Falling in love with the blues at an early age, Jeremy went on to study finger-style and slide with acclaimed British guitarist Martin Simpson. Beginning in 1992 Lyons relocated to New Orleans from the Northeast and continued to thrive there in music for the next 13 years, including seven appearances at Jazz Fest, plus domestic and international tours with his trio The Deltabilly Boys. In 2005, Hurricane Katrina forced Jeremy to leave, but Lyons was warmly welcomed by the Boston music community. An eclectic artist, besides raising his teenage daughter, Jeremy performs at farmers markets, clubs, concert stages, preschools, businesses and libraries and fronts a progressive roots-rock combo and continues to explore other genres. Jeremy is a sought after guitar instructor and is currently booking dates in support of Make It Better.
---